Designed for women who take their pleasure seriously!
The Pleasureshot is an exciting new natural serum that stimulates sexual appetite and enhances sensation while providing long lasting glide.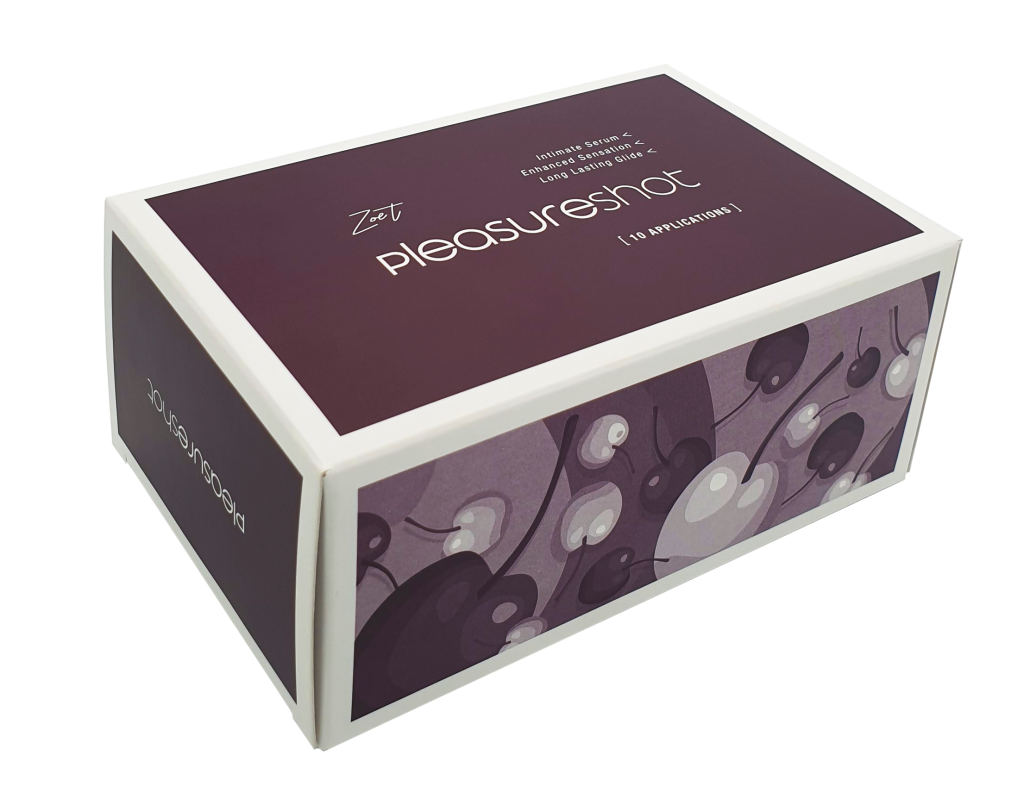 It contains one of the most potent aphrodisiacs, Mucuna Pruriens, so ramp up your sexual desire and enjoy more intense, longer lasting, delicious orgasms.
Each box contains 10 x single use applications, all of which are hygienically packaged.
The serum is inserted vaginally prior to intercourse and takes effect anywhere between 5 and 15 minutes.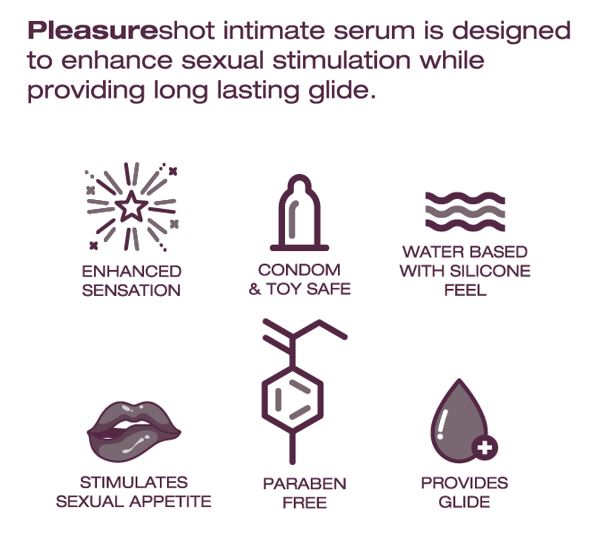 The Pleasureshot may be new to the market but the reviews speak for themselves:
Amazing Product, definitely exceeds expectations!!! Adri
Best product, definitely works.. Had a great experience. Ashley
My partner and friends are singing praise of this amazing product (pleasure shots) and i also want to thank you as it revolutionized my sex life. The product is way too amazing. Shipho
I just wanted to send a personal thanks to you guys. This product has literally changed my sex life. Before I struggled to hold an orgasm, and this product has made them more intense and last longer than usual. I have also had a cesarean a couple of months back and intercourse has been a bit uncomfortable after that, but after using your product it made it way more comfortable. I would really recommend this product to all the ladies out there. And I am surely telling all my girlfriends.Thabiseng
What makes the Pleasureshot so powerful?
L-Arginine-HCI: L-Arginine has been shown improve blood flow to the genital are by dilating blood vessels.
Damiana Leaf Extract: Damiana helps to increase blood flow to the genital area during sexual stimulation.
Mucuna Pruriens: Considered one of the most potent aphrodisiacs that helps boost sexual desire.
Ginko Biloba Extract: Aides blood flow to intimate area.
Humulus Lupulus Extract: Aka hops. Estrogen is the most important sex hormone found in women and sometimes plants contain chemicals that mimic the effect of natural estrogen found in human bodies. Studies have shown that hops contains prenylnaringenin, one of the most potent of all phytoestrogens. Hops may help women be sexually aroused, have better vaginal lubrication and more intense orgasms.
Ingredients: Aqua (Water), L-Arginine-HCI, Mucuna Pruriens, Ginko Biloba Extract, Damiana Leaf Extract, Wild Yarn Extract, Humulus Lupulus Extract, Menthol, Niacin, Aloe Barbadensis Leaf Extract, Glycerin, Butylene Glycol, Isohexadecane, Hydroxyethyl Cellulose, Xanthan Gum, Phenoxyethanol, Ethylhexylglycerin, Parfum.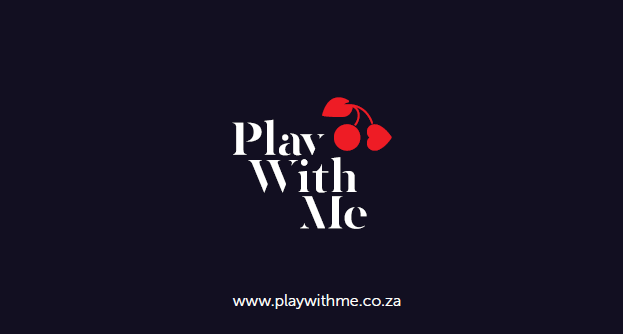 OVERNIGHT DELIVERY
Door to door delivery in South Africa with The Courier Guy. R85 standard delivery, FREE for orders over R600.
SECURE ONLINE PAYMENT
Secure online payment via Payfast 3D Secure, VISA or MasterCard. EFT option also available.
PACKAGING
All orders are discreetly packaged for delivery. Shop with ease and peace of mind.
Play With Me offers South African men and women a wide variety of high quality adult toys (and much more) at the touch of a button!
The best advice, discreet door to door courier delivery and secure online payment means it's never been easier to explore your sensuality on your own terms.
Bold, yet playful – the freedom to express all of you.